Tattoo
Regular price
Rs. 14,000.00
Regular price
Sale price
Rs. 14,000.00
Unit price
per
Sale
Sold out
Share
Features

Safe and durable for long-term use.
A lightweight, simple, reliable copier that will make your life Convenience.
There are several buttons/ keys for different functions, you can choose the copy methods, deepness etc.
Suitable for printing transfer printing paper, which provides fast printing speed.
This tattoo transfer machine is created specifically for the artist.
Specification

Item Type
Tattoo Transfer Stencil Machine :
Material : ABS, electronic components
Voltage : 100-240V / 50-60Hz/1.2A
Scanning Mode : CIS
Effective Scan Width : Approx. 210mm / 8.27in
Scanning Resolution : Horizontal: 8dot/mm, vertical: 7.7line/mm
Document Type : FINE/PHOTO
Document Size : A5 to A4
File Thickness : Approx. 0.06mm-0.15mm
Recording Mode : TPH
Effective Printing Width : 210mm / 8.27in
Power Consumption : Standby 10W
Working Environment Temperature : 5℃ to 35℃
Relative Humidity : 20% to 80%
Size : Approx. 293 x 171.5 x 72mm / 11.54 x 6.75 x 2.83in
Weight : Approx. 1.2kg / 2.65lb
View full details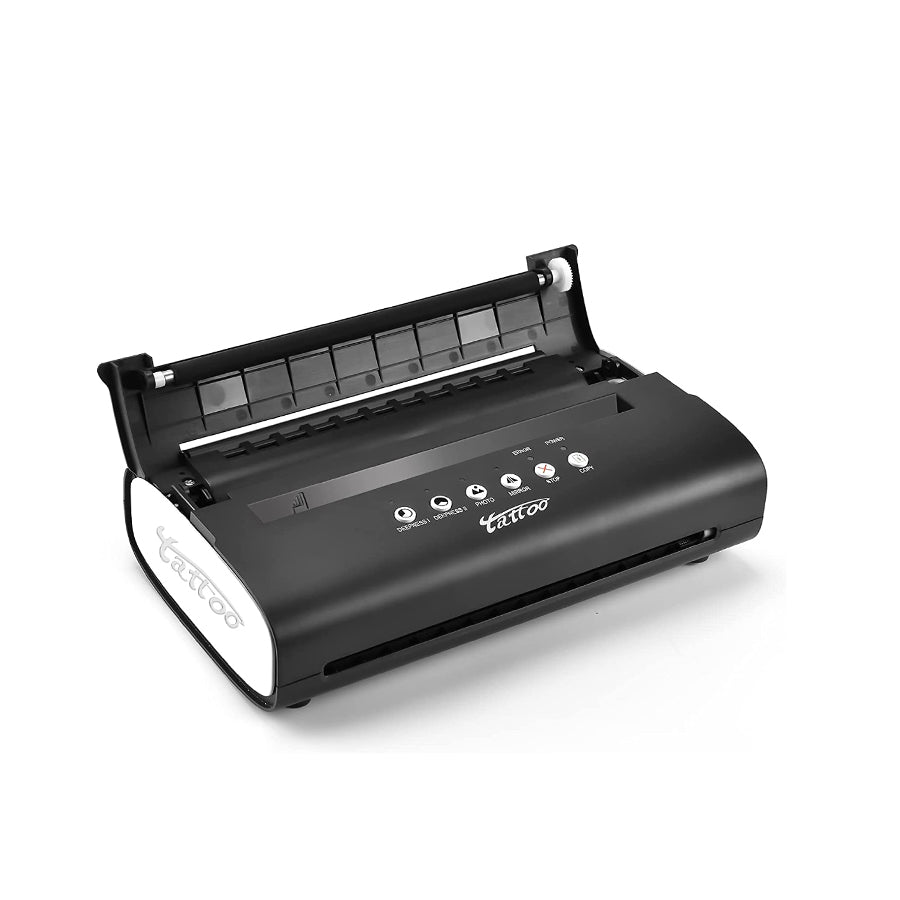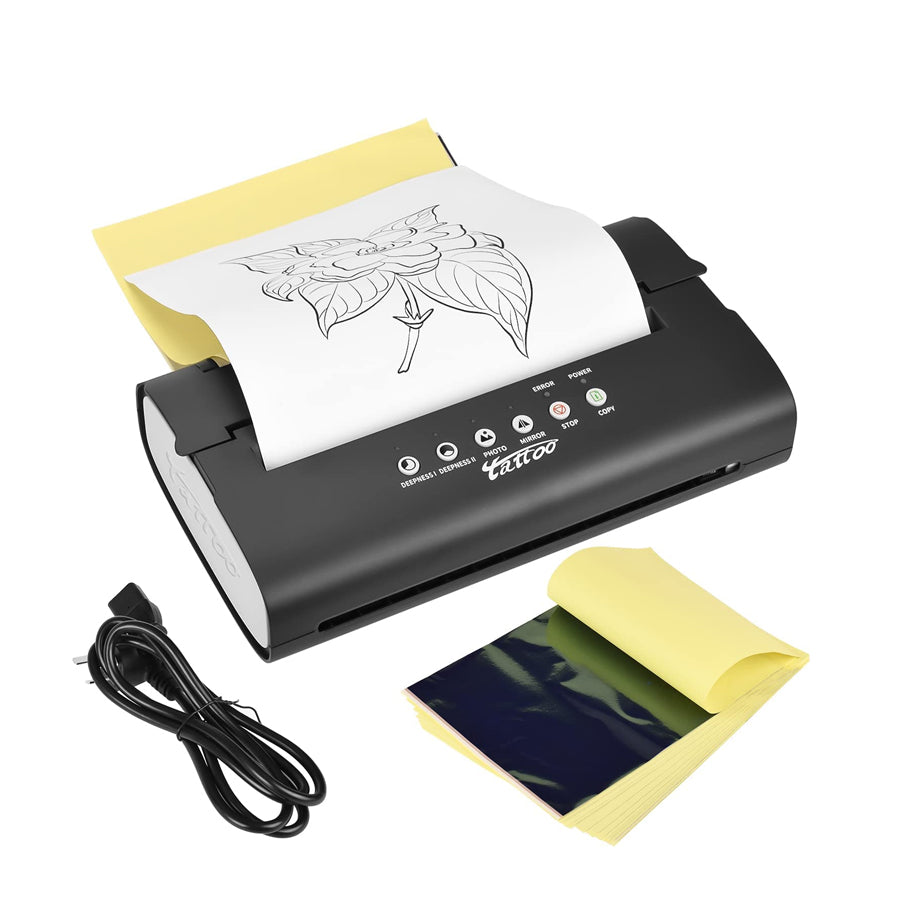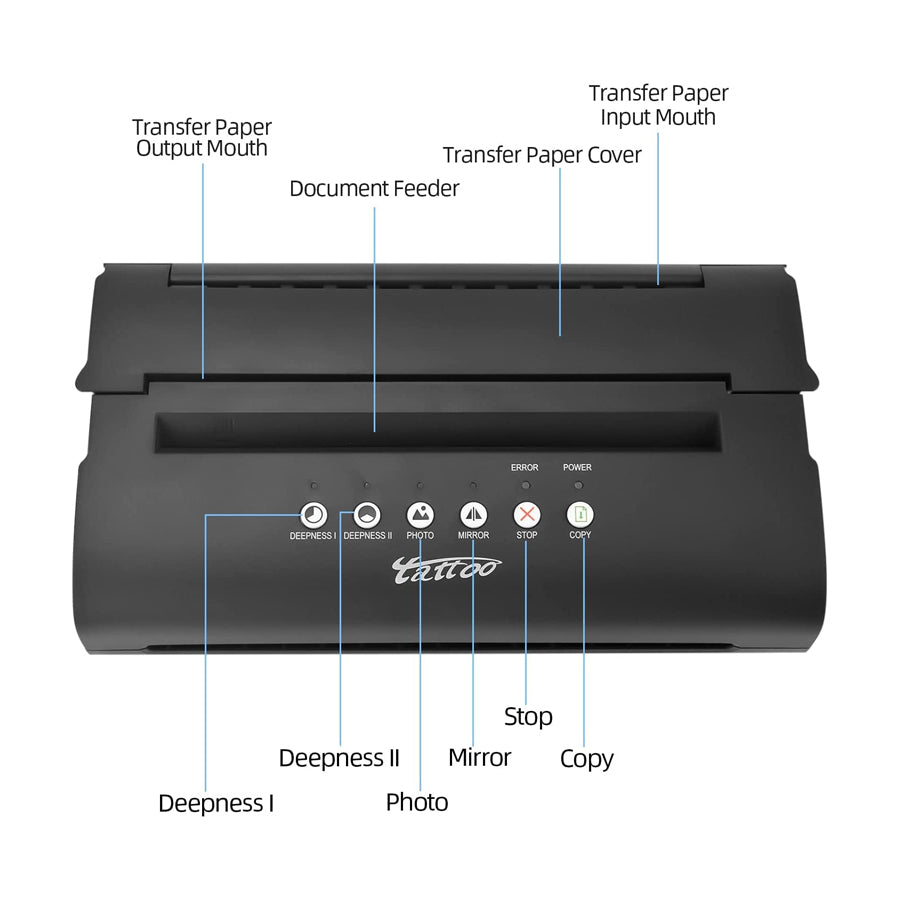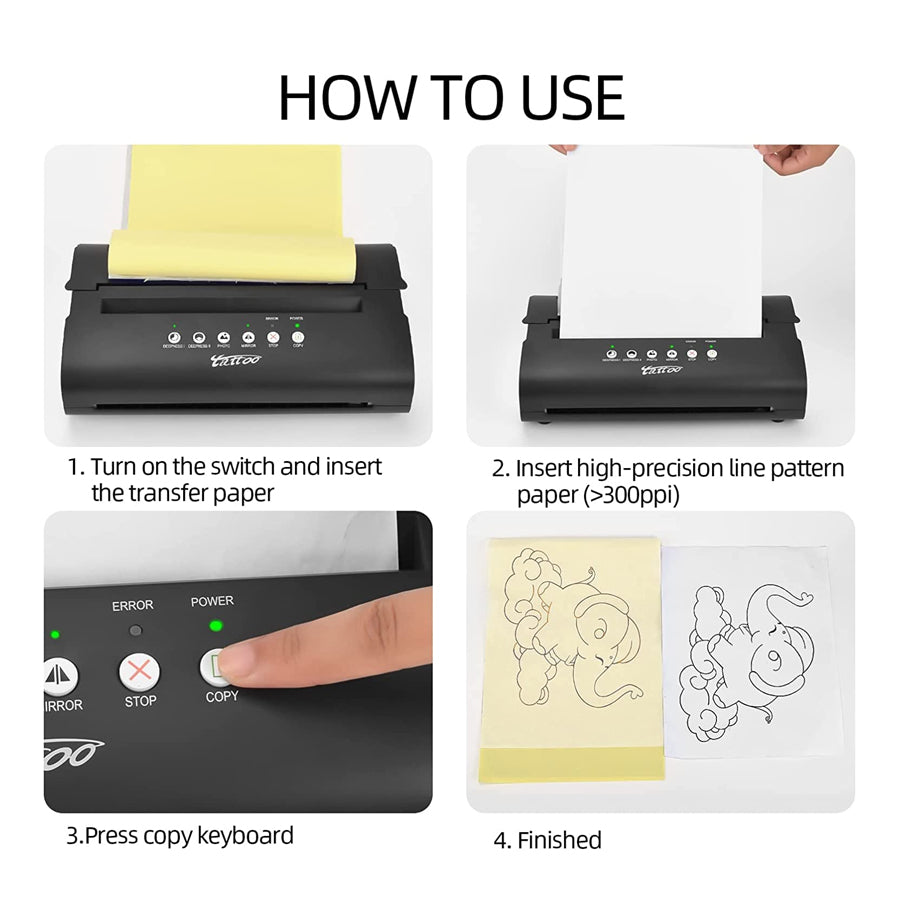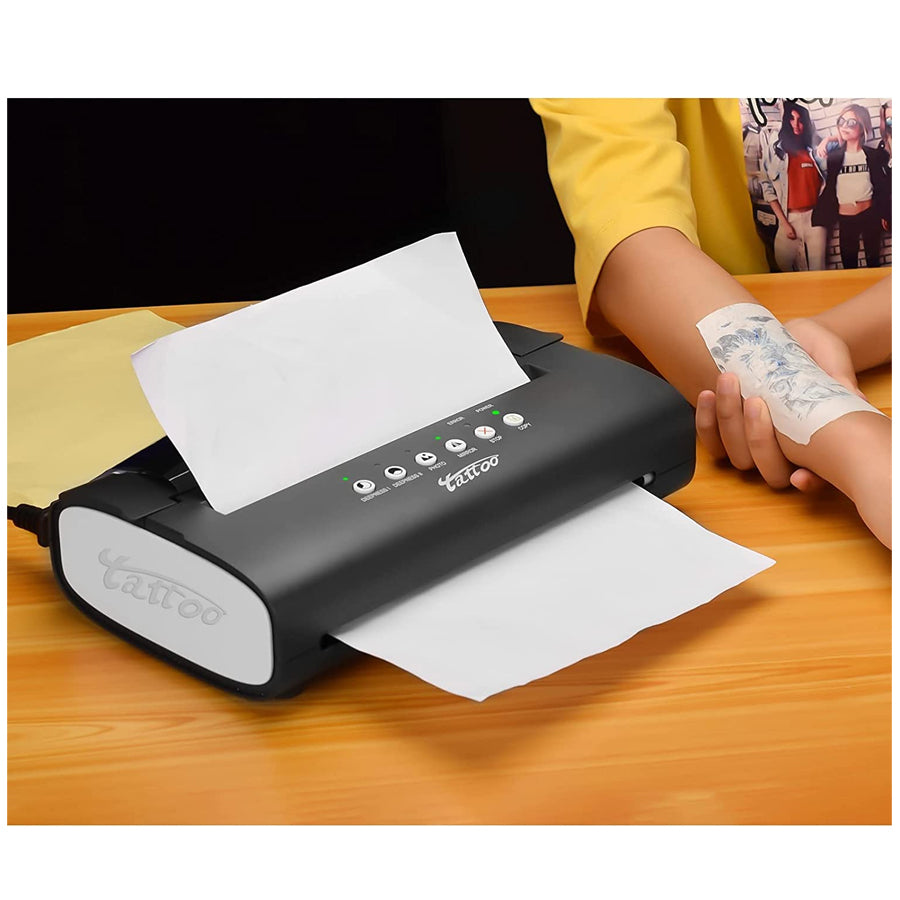 Description
The Latest Version: Compared with the old version, this updated tattoo transfer machine comes with smaller size, faster transfer printing speed, lower noise and more stable performance. Net weight 1.2KG.
This Tattoo stencils Printer is used to help a tattoo artist to print the design on stencil paper & can easily trace a stencil tattoo design onto the skin and continue tattooing without making mistakes. The stencils are super helpful, especially if a tattoo artist is a beginner or they can also be used by professionals.
This tattoo stencil Printer is a professional thermal copier specially designed for tattoo artists. This tattoo Stencil Printer is Made of ABS material, which is environmental, safe, and durable for long-term use. Neither ink nor replacement parts are needed.
This Tattoo transfer Printer weighs only 1.2 kg/2.65lb small in size which makes it easy to carry. You can make the tattoo anytime anywhere as you like.
This Printer has a fast printing speed, a clear transfer pattern, low heat, low noise, and more stable performance.
In just a few steps, you can transfer your favorite patterns onto the stencil paper and then move the tattoo on your skin, saving your time efficiently.
For a better transfer effect, the machine requires a break for a few minutes after printing  1-2 sheets.
How to Use:
1. Open the cover.
2. Press the power button. 
3. The 3 indicator lights are on, transfer machine is in normal working mode.
4. Prepare the transfer paper and the manuscript.
5. Remove the protective paper.
6. Put the transfer paper in as shown in the images.
7. Put the manuscript in as shown in the images.
8. Press the COPY button.